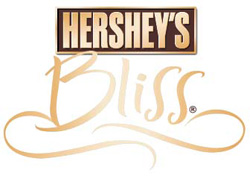 HERSHEY'S BLISS INVITES WOMEN NATIONWIDE TO SHARE
THE BLISS OF A 16.5-CARAT DIAMOND NECKLACE

Online Contest Inspired by Best-Selling Book "The Necklace"
Celebrates Debut of New Hershey's Bliss Chocolate Bars by
Connecting Women to Share Everyday Bliss Nationwide



One day in Ventura, California, Jonell McLain saw a beautiful diamond necklace in a jewelry store window and wondered: Why are personal luxuries so plentiful yet accessible to so few? What if we shared what we desired? Several weeks, dozens of phone calls, and one great leap of faith later, Jonell and twelve other women bought the necklace together–to be passed along among them all. The dazzling treasure weaves in and out of each woman's life, reflecting her past, defining her present, making promises for her future. Lending sparkle in surprising and unexpected ways, the necklace comes to mean something dramatically different to each of the thirteen women. With vastly dissimilar histories and lives, they transcend their individual personalities and politics to join together in an uncommon journey–and what started as a quirky social experiment becomes something far richer and deeper.
If diamonds are a girl's best friend, adding chocolate creates a blissful trio. In the
New York Times
best-selling book
The Necklace: Thirteen Women and the Experiment That Transformed Their Lives" by Cheryl Jarvis (A Ballantine Trade Paperback; On Sale August 25, 2009), 13 women embark on a surprising journey of living life and learning about one another as they join forces to purchase and share a diamond necklace. Designed to celebrate life's everyday bliss,
Hershey's Bliss®
chocolate will take a page from this true story to help others experience the undeniable bliss of sharing just like the women of "The Necklace." The
Hershey's Bliss
chocolate
Share the Bliss™
contest will connect women nationwide with the once-in-a-lifetime chance to share a 16.5-carat diamond necklace. The national online essay contest kicks-off August 25 at
www.hersheysbliss.com
and celebrates the launch of the new
Hershey's Bliss
Dark Chocolate bars and
Hershey's Bliss
Milk Chocolate with a Meltaway Center bars.

Here are the details:

* Beginning August 25 through December 2009, you can enter the Share the Bliss contest by submitting a story (150 words or less) of why you want to experience the Hershey's Bliss diamond necklace to www.hersheysbliss.com.
* Five lucky women will be selected to be "blissed" with the 16.5-carat diamond necklace for two weeks and will receive the necklace on a bed of delicious Hershey's Bliss chocolate with a copy of "The Necklace: Thirteen Women and The Experiment That Transformed Their Lives."
* Each winner will be asked to share their experience with the necklace through a blog on the Hershey's Bliss chocolate Web site and to help select the next winner, thus connecting women nationwide.
* The winners will be invited to meet in person for the first time at the Young Survival Coalition's (YSC) spring 2010 charity benefit in New York City where the necklace will be "blissed" for the last time. Hershey's Bliss will continue the company's long-standing support of the YSC and raising awareness for breast cancer by donating the 16.5-carat diamond necklace to the organization's annual fund raiser.

If you decide to enter this amazing contest, just leave a comment letting them know... What would you do with a 16 Carat Diamond Necklace for 2 Weeks? Go to enter at

:
www.hersheysbliss.com.